1 thru 10 of 2620 Stories
Virginia Attorney General Mark Herring is calling for the legalization of marijuana. The Democratic attorney general said criminal prosecutions are costly to the state and local governments and disproportionately affect African Americans.
The continued political engagement of educators and their supporters suggests that the teacher movement that sparked walkouts in half a dozen states last year didn't end with the election of dozens of teachers.
Sometimes the best journalism tells us the worst news. But that's a function of the media that's essential to reporting - and to democracy.
New York eliminated the religious exemption to vaccine requirements for schoolchildren Thursday, as the nation's worst measles outbreak in decades prompts states to reconsider giving parents ways to opt out of immunization rules.
A posh Northern California hotel was ordered to pay $1.6 million in penalties Thursday for failing to provide public access to its nearby beaches.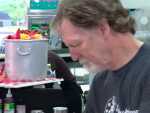 The Baker who won a narrow victory in the Supreme Court after refusing two men a wedding cake now faces a suit from a transwoman who says he discriminated against her by denying her a gender transition cake.
Prosecutors dropped all criminal charges Thursday against eight people in the Flint water crisis and pledged to start from scratch the investigation into one of the worst man-made environmental disasters in U.S. history.
Speaker Nancy Pelosi said Thursday that the Democratic-controlled House won't pass must-do legislation to increase the government's borrowing cap until the Trump administration agrees to boost spending limits on domestic programs.
President Donald Trump's assertion that he would be open to accepting a foreign power's help in his 2020 campaign ricocheted through Washington on Thursday, with Democrats condemning it as a call for further election interference.
Montana Gov. Steve Bullock and U.S. Rep. Seth Moulton of Massachusetts were the only major candidates out of the two dozen Democratic hopefuls who failed to meet the polling or grassroots fundraising measures required to get a debate spot.
1 thru 10 of 2620 Stories