When you think of America's longest-running musicals, Broadway favorites such as "The Lion King" or "Chicago" may come to mind.
Though not quite fully realized, "Moby-Dick" is invigorating musical theater that is spectacular in execution.
Theater company Nocturnal Fandango ended their spectacularly inventive season with their latest full-length immersive experience, "The Winter Machine."
If you ever wondered if a laughter can be heard in space, head over to the third floor of the South Boston Lithuanian Citizens Association for the raucous answer.
The six-hour-plus, sprawling, ambitious and exciting 'event' play, "The Inheritance,"is now dazzling audiences at the Barrymore Theater.
We love you Dolly, just not the musical that bears your name.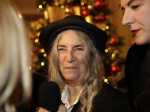 The gala season premiere of Puccini's "Tosca" starring Russian soprano Anna Netrebko and conducted by Riccardo Chailly received 15 minutes of applause in an evening that celebrated culture as a bulwark against political extremism.
"Harry Potter and The Cursed Child" is what you might call creativity run amok. Surely there's no other show like it in the world—there couldn't be—and for that it earns a spot in the history books.
With Ebenezer Scrooge, the Grinch and even Dolly Parton finding their way to holiday stages, why not Rudolph, the Red-Nose Reindeer? Actress Sharon Pearlman talks about playing the holiday icon.
He's sung Broadway tunes and he's done jazz standards. He's sung Christmas classics and a commercial jingle for Nationwide. Leslie Odom Jr. might be known primarily for singing other people's music but that's no longer the case.