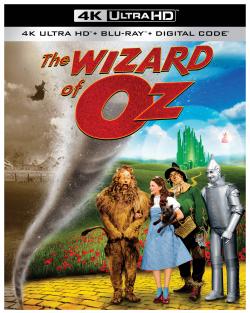 WARNER BROS. HOME ENTERTAINMENT ANNOUNCES THE BELOVED CLASSIC THE WIZARD OF OZ TO BE RELEASED ON 4K ULTRA HD BLU-RAY & DIGITAL

ACCLAIMED AS ONE OF THE GREATEST FAMILY FILMS OF ALL TIME, THE WIZARD OF OZ WILL BE AVAILABLE FOR THE FIRST TIME IN 4K RESOLUTION WITH HIGH DYNAMIC RANGE (HDR)

Warner Bros. Home Entertainment announced today that 1939's acclaimed and beloved classic The Wizard of Oz will be released on Ultra HD Blu-ray Combo Pack and Digital on October 29th. Directed by Victor Fleming (Gone With the Wind) and starring Judy Garland as Dorothy Gayle, The Wizard of Oz is widely considered to be one of the most influential films in cinematic history.

Adapted from L. Frank Baum's timeless children's tale about a Kansas girl's journey over the rainbow, The Wizard of Oz officially premiered at Grauman's Chinese Theater on August 15, 1939. The film was directed by Victor Fleming (who that same year directed Gone With the Wind), produced by Mervyn LeRoy, and scored by Herbert Stothart, with music and lyrics by Harold Arlen and E.Y. Harburg. Ray Bolger appeared as the Scarecrow; Bert Lahr as the Cowardly Lion, Jack Haley as the Tin Woodman. Frank Morgan was seen in six different roles, including that of the "wonderful Wizard" himself. Dorothy was portrayed by a 4'11" sixteen year old girl who quickly earned her reputation as "the world's greatest entertainer"-- the incomparable Judy Garland.

Using state of the art technology, a new 8K 16bit scan of the original Technicolor camera negative became the basis for the 4K UHD scan. The process was overseen by MPI colorist Janet Wilson, who has overseen every remaster of The Wizard of Oz for the past 20 years.

Enter to win!

Thanks for visiting EDGE!

Enter this contest
If you already have an account with EDGE, all you need to do is log in; we'll pull your address information from your account and simply ask you to verify it. If you do not yet have an account with us, register now! It's easy and free, and you'll never have to type in your personal information again. If you prefer to enter this information manually, you can use the manual entry link below.
Register
Click here for contest rules.
* Please be aware that creating multiple accounts for the same person will disqualify you.