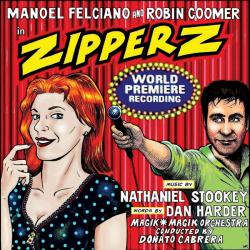 Ghostlight Records will release the World Premiere Recording of ZIPPERZ in physical, digital and streaming formats on Friday, August 4. The album will feature a full color booklet with a synopsis and liner notes from composer Nathaniel Stookey. The recording is produced by Nathaniel Stookey with Minna Choi and Andrew Vernon serving as co-producers. To order the album, please visit www.sh-k-boom.com/zipperz or wherever music is sold.

ZIPPERZ, a hip and edgy romantic comedy for two singers and symphony orchestra, is a "dream come true for any lover of music and the written word" (SFist). The album, starring Manoel Felciano and Robin Coomer, tells the story of a love affair from two different perspectives at the same time through "dance numbers, pop ballads, and terse little melodic interchanges" (San Francisco Chronicle).

"Nathaniel Stookey is the composer of the hour," raves 21st Century Music. "With a growing list of compositions that includes The Composer Is Dead with Lemony Snicket, Junkestra for found percussion, and incidental music to Bertolt Brecht's The Caucasian Chalk Circle, Stookey has struck it rich again with a brilliant ZIPPERZ. Dan Harder's "zipper" poems provide the libretto, presenting a love story simultaneously from the perspectives of both lovers, in interlocking lines that yield third meanings when combined."

The creative team of ZIPPERZ also includes Donato Cabrera (Conductor), Minna Choi (Artistic Director, Magik*Magik Orchestra), and Jeff Mars (drums).

ZIPPERZ tells the story of two singers at a club that's been there for as long as anyone can remember. Night after night, they put on the same boy-meets-girl routine, but tonight, at intermission, their carefully rehearsed set takes an unexpected turn. The insightful and unique structure of Stookey and Harder's piece- like being inside two people's heads at the same time - brings out the complex he-said-she-said of a blossoming relationship.

ZIPPERZ was commissioned and premiered by The Oakland Symphony, with funding from The Baker Street Foundation.

Enter to win!

Thanks for visiting EDGE!
Enter this contest
If you already have an account with EDGE, all you need to do is log in; we'll pull your address information from your account and simply ask you to verify it. If you do not yet have an account with us, register now! It's easy and free, and you'll never have to type in your personal information again. If you prefer to enter this information manually, you can use the manual entry link below.
Register
Manual Entry
Click here for contest rules.
* Please be aware that creating multiple accounts for the same person will disqualify you.