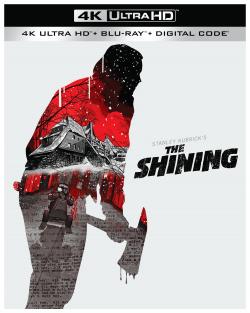 Warner Bros. Home Entertainment announced today that The Shining, Stanley Kubrick's terrifying 1980 horror masterpiece, will be released on Ultra HD Blu-ray and Digital on October 1. The 4K remastering is of Kubrick's original 146 minute version of the film which premiered in the United States on May 23rd, 1980.

Jack Torrance (Jack Nicholson) becomes the winter caretaker at the isolated Overlook Hotel in Colorado, hoping to cure his writer's block. He settles in along with his wife, Wendy (Shelley Duvall), and his son, Danny (Danny Lloyd), who is plagued by psychic premonitions. As Jack's writing goes nowhere and Danny's visions become more disturbing, Jack discovers the hotel's dark secrets and begins to unravel into a homicidal maniac hell-bent on terrorizing his family.

Now widely regarded as one of the greatest horror films ever made, The Shining was directed and produced by Kubrick, who wrote the screenplay with Diane Johnson. The film was based on the novel "The Shining" by Stephen King, and stars Jack Nicholson in an iconic role as Jack Torrance, Shelley Duval as Wendy Torrance, Scatman Crothers as Dick Halloran, and Danny Lloyd as Danny Torrance.

The 4K remastering was done using a new 4K scan of the original 35mm camera negative at Warner Bros. Motion Picture Imaging. Filmmaker Steven Spielberg and Stanley Kubrick's former personal assistant Leon Vitali worked closely with the team at Warner Bros. during the mastering process.

On May 17th, the restored 4K version of the film will be screened at The Cannes Film Festival.

In 2018, The Shining was selected for preservation in the United States National Film Registry by the Library of Congress as being "culturally, historically, or aesthetically significant." The film ranked 29th on AFI's 100 Years...100 Thrills list, and Jack Torrance was named the 25th greatest villain on the AFI's 100 Years...100 Heroes and Villains list. Additionally, the quote "Here's Johnny" from the film was ranked 68th on AFI's 100 Years...100 Movie Quotes list.

Enter to win!

Thanks for visiting EDGE!
Enter this contest
If you already have an account with EDGE, all you need to do is log in; we'll pull your address information from your account and simply ask you to verify it. If you do not yet have an account with us, register now! It's easy and free, and you'll never have to type in your personal information again. If you prefer to enter this information manually, you can use the manual entry link below.
Register
Click here for contest rules.
* Please be aware that creating multiple accounts for the same person will disqualify you.