1 thru 10 of 7022 Stories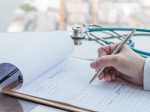 A means to divert addicted patients into treatment remains elusive, creating a missed opportunity in the health system.
Memory and thinking skills naturally slow with age but now scientists are peeking inside living brains to tell if depression might worsen that decline — and finding some worrisome clues.
Phone batteries dying, sticking to plans, and slow WiFi — these are just some of the modern causes of stress plaguing Americans today, according to new research.
A profitable new business for drug gangs has pushed the synthetic opioid to the top spot for fatal U.S. overdoses.
Mississippi is working toward enacting one of the strictest abortion laws in the nation, in a race with other states to push a legal challenge to the more conservative U.S. Supreme Court.
In popular culture, a battle of the sexes usually focuses on societal gender roles. But, there's another battle of the sexes, a biological war waged by the body's immune system.
A personal account of how medical bills can amplify the struggle families face during a critical illness.
Detoxing off heroin or opioids without medication is sheer hell. I should know.
Cigarette smoking rates have stopped falling among U.S. kids, and health officials believe youth vaping is responsible.
As a doctor and epidemiologist who studies sex, I bring good news for Valentine's Day. It's not just that sex is fun — it's also good for your physical and mental health.
1 thru 10 of 7022 Stories