Top Story
Pedro Almodovar's "Pain and Glory" is a self-portrait of rare precision and warm intimacy.
Netflix is sharing the first official trailer for the new installment of "Armistead Maupin's Tales of the City."
I'm happy to announce that this sequel isn't the train wreck I thought it'd be. Rather, the film is a clever and inventive follow-up even if it's completely unnecessary.
The 1974 disaster film "Earthquake" is now available on Blu-ray with a great release from Shout! Factory. While the story is mostly empty-headed, this film was and still is a technical marvel.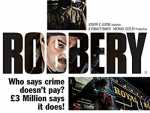 Peter Yate's 1967 crime film "Robbery" is now available on Blu-ray from the good folks at Kino Lorber. Pick this Blu-ray up if you're interested in Yates' work, because this is one of his greatest films.
Roman Polanski's 1992 drama "Bitter Moon" is now available on Blu-ray from Kino Lorber, and it deserves your attention.