1 thru 10 of 5050 Stories
Caroline Flack, a British television presenter who hosted the controversial reality TV show "Love Island," has died at age 40, her family said Saturday.
Zoë Kravitz is given a platform to showcase her acting chomps in Hulu's delightful take on iconic novel/film, "High Fidelity," which is now streaming.
A clip from the daytime TV show "Divorce Court," featuring a gay couple claiming that a dispute between rappers Nicki Minaj and Cardi B is the cause for the men splitting, is going viral this week.
HGTV's long-running TV show "House Hunters" featured its first ever throuple this week.
Nicki Minaj isn't the only megastar joining "RuPaul's Drag Race" Season 12 as a guest judge.
A live episode of ABC's "The Conners" airing 8 p.m. EST Tuesday will incorporate, in real time, the Democratic primary in New Hampshire. The venture's scheduling already counts as lucky.
Without a host or a great deal of pizzazz, ABC's telecast of the Academy Awards reached its smallest audience ever of 23.6 million viewers.
In "Katy Keene," the CW spin-off of its mega-hit "Riverdale," Jonny Beauchamp plays an aspiring Broadway actor who finds himself when he starts doing drag. EDGE spoke to the queer actor about the series & his committment to LGBTQ representation.
RuPaul was the latest host of "Saturday Night Live" and in one hilarious skit, the Super Model of the World made over the show's actor Pete Davidson.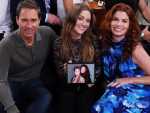 "Will and Grace" fans were in full meltdown mode after Billie Lourd appeared on the venerable gay sitcom.
1 thru 10 of 5050 Stories