Top Story
A judge appointed a special prosecutor to investigate the decision by Cook County prosecutors to dismiss all charges against actor Jussie Smollett.
1 thru 10 of 48466 Stories
Many details of what happened at the Stonewall are enveloped in differing perspectives, disputes and the uncertainty of half-century-old memories.
Hundreds of thousands of people filled a main São Paulo thoroughfare for one of the world's largest LGBT pride parades — the first since the election of far-right President Jair Bolsonaro.
A ceremony has been held at the former site of Germany's Buchenwald concentration camp to remember people imprisoned there because they were thought to be gay.
Democratic presidential candidate Pete Buttigieg faced criticism Sunday from angry residents of South Bend, Indiana, at an emotional town hall meeting a week after a white police officer fatally shot a black man in the city where he is mayor.
The unwritten rules that have so far prevented the Democratic presidential contest from devolving into all-out conflict are about to be tested.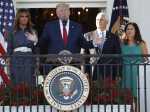 President Donald Trump says he hesitated when he was asked about backing Vice President Mike Pence if Pence runs for president in 2024 because the question caught him off-guard.
The documentary "Leaving Neverland" presented a disturbing depiction of Michael Jackson as a child molester, but the initial wave of negative publicity hasn't greatly diminished the King of Pop's image or the enduring popularity of his music.
Press secretary Sarah Sanders seems to be in an enviable position as she leaves the White House for a possible run for governor in her home state of Arkansas.
Major retailers have diversified their inventory for Pride month, selling apparel and other goods that celebrate LGBTQ culture to mark the 50th anniversary of the Stonewall uprising.
Thousands of supporters of LGBT rights have marched through the center of Kiev, the Ukrainian capital, under a heavy police presence to separate them from opponents.
1 thru 10 of 48466 Stories