1 thru 10 of 1257 Stories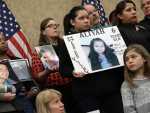 The father of a victim of the Sandy Hook Elementary School massacre has won a defamation lawsuit against the authors of a book that claimed the shooting never happened.
The battle to contain the worst U.S. measles outbreak in 27 years has a new front: summer camp.
Democratic presidential candidate Pete Buttigieg (BOO'-tuh-juhj) wants to start a family with his husband, Chasten, and says that could happen if he's in the White House.
Fathers in the U.S. tend to be better educated than men without children, and relatively few men have children over age 40.
Coinciding with Pride Month, the Discovery Family cartoon series "My Little Pony" has introduced a same-sex couple on the show for the first time.
Most of us have grown accustomed to stories of zoos with same-sex penguin couples, but the Denver Zoo notes that this year's Pride has a fresh pair of love birds: A seme-sex pair of male flamingos.
New York state moved closer Tuesday to lifting its ban on paid surrogacy agreements, in which a woman is compensated for carrying someone else's child, after the state Senate approved the measure.
Andy Cohen has joined New York Gov. Andrew Cuomo in pushing to legalize paid gestational surrogacy, in which a woman is compensated for carrying a baby for its parents.
When doctors said her youngest child would be a girl, Amie Schofield chose the name Victoria. Then they said the child would be a boy, so she switched to Victor.
Openly gay Australian diving champ and Olympic gold medalist Matthew Mitcham announced on social media that his boyfriend of six months, Luke Rutherford, has proposed marriage — and Mitcham has accepted.
1 thru 10 of 1257 Stories