South Florida Gay News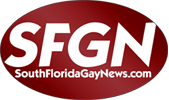 The South Florida Gay News.com celebrates the lives of South Floridians with daily news briefs and storied features, breaking news and lifestyle profiles. Check out their website at southfloridagaynews.com.
114 members of Congress pushed for evidence from President Donald Trump that he has support from head military officials on his ban of transgender military members.
A mural of deceased singer George Michael in Sydney, Australia was vandalized last week in the wake of the country's mail-in vote on same sex marriage.
If you read the Daily Beast you'd get the impression gay Trump supporters are having regrets, with their recent article: "Trump's Gay Backers No Longer See Him as the Great Straight Hope."
"Diversity is the human experience. I get a little bit frustrated when diversity or the term diversity is tagged to the people of color, or the women, or the LGBT," Business Insider reported her as saying.
In a feature by "The New Yorker" on a possible Pence presidency and its threat to progressive ideals, a staff member from Trump's campaign revealed the president has often belittled the vice president, whose anti-LGBT views are a matter of record.
Transgender, non-binary people and their "utopia of the neutral" will make people infertile, Pope Francis claims.
Rep. Steve Scalise will give a speech to the Family Resource Center, a group against gay marriage rights. This comes despite the fact that a lesbian police officer was wounded while trying to protect Scalise from a shooter.
Teams formed in South Florida this Fall to compete and network in the Varsity Gay League sanctioned sport.
Miami-Dade County will not be joining Delray Beach, Wellington and a number of other Florida jurisdictions banning the harmful practice of gay conversion therapy.
Many things have been said and written about "Stonewall," the historic confrontation in June 1969 after a police raid at the Stonewall Inn. Some of those things are just not true. For instance...