1 thru 10 of 29691 Stories
The long-running ABC hidden camera series "What Would You Do?" posed a compelling question with its latest episode, which staged an instance of anti-gay bullying at a sports store.
Who says the great outdoors can't be fabulous and fierce? Check out our top picks for glamping, camping and bonding with Mother Nature.
Can having too much protection from COVID-19 be a problem? It was for Bradford Nordeen, an out man on a Southwest flight who was asked to leave a plane because his visor upset a flight attendant.
Last week, in an investigative report by the Washington Post, a former volunteer for the popular Instagram account Queer Appalachia accused the organization of mishandling donations.
Wondering what Kamala Harris has in store for the debate stage, social media and podium? Take a look at nine of our favorite KH Instagram moments.
Cardi B's new single "WAP," featuring Megan Thee Stallion, is striking a chord with conservatives who have taken their tantrums over the song to Twitter.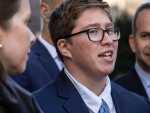 A Florida school district was wrong when it forced a transgender high school student to either use the girls bathroom or a single-stall gender neutral bathroom, a federal appeals court ruled.
The family of a Florida man who disappeared in 1997 and who appeared on the hit TV series "Tiger King," has hired a lawyer and is offering $100,000 in exchange for information to help solve the case.
As coronavirus cases surge — and dire shortages of lifesaving protective gear like N95 masks, gowns and gloves persist — the nation's health care workers are again facing life-threatening conditions in Southern and Western states.
An openly gay Trump supporter attending an Aug. 1 "Back the Blue" rally in Frederick, Maryland, says he was subjected to an anti-LGBTQ slur hurled by a founding member of a local rights organization.
1 thru 10 of 29691 Stories