Top Story
Noah Purvis joined the cast of CBS's reality dating show "Love Island" last night. Missing from his bio is his appearances in three same-sex videos this past year.
1 thru 10 of 15273 Stories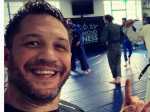 The Internet is sparking with rumors that Tom Hardy might be the next actor to play James Bond.
Glory holes are celebrated in João Dall'Stella's cheeky 3-minute video "Stalls." EDGE spoke to the filmmaker about the short.
When your gay partner dies and there is no will, this could be your story.
The true story of when one lesbian military officer was in charge of the dismissal proceedings against another lesbian officer.
"Breaking Fast" is the story of how one queer Muslim falls in love.
Carrie Coon so badly wanted the slow-burn familial drama "The Nest" to be made, she told its director that she'd step aside so that he could cast "someone more famous" in her role.
QFest, Houston's International LGBTQ Film Festival, announces its 2020 feature slate with submissions from across the world, including six competition feature films, three special feature presentations, and various shorts.
Frameline has announced the star-studded lineup of special guests and panelists for Frameline44 — the world's largest virtual LGBTQ+ film festival — continuing through Sunday, September 27, 2020.
"No Escape" mixes the director's own "Escape Room" with "Hostel" to suspenseful, but mixed, results.
This Chilean drama from first time filmmaker Nicol Ruiz Benavides is a joyous tale about it never being too late for self-discovery and personal freedom.
1 thru 10 of 15273 Stories