One Taxi Ride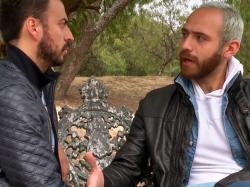 Mak CK's document "One Taxi Ride" follows Erick, a Mexican citizen and survivor of sexual assault, as he struggles to put his life back on track while living in a macho culture where he's absorbed the message that men must be strong and stoic.

Though the assault happened ten years earlier, on Erick's 17th birthday, he still finds that he is unable to allow himself to be close to his family, let alone cultivate successful romantic relationships. Adding to the weight of his secrecy and shame is his HIV status. It's not quite clear whether his HIV is the result of having been raped by three men after being abducted by a taxi driver or whether he contracted the virus later, but either way, there's a feeling that the assault was at least indirectly to blame.

When we meet him, Erick is getting to know the family of his new boyfriend, Rodolfo. The two have been going out for some months, and they haven't yet had sex; Erick isn't ready for that step yet, and Rodofo, though he doesn't know about the assault, is understanding and doesn't pressure Erick. When Erick finally tells Rodolfo about the gang-rape he suffered, Rodolfo is as kind and supportive as ever; later on, in a separate conversation about his Erick's HIV status, new problems come to light - not because Erick is positive, but because of certain trust issues that are suddenly revealed.

As Erick works to overcome the shame of his assault history, his family members wrestle with their own problems. Sister-in-law Karen was also assaulted, as a child, by an uncle; when she told her father about this abuse, he refused to believe her. Erick's brothers, like himself, have been left scarred by the way their father treated them before abandoning the family. As for Erick's mother, Elena, she has done a heroic job of raising four sons on her own - and now she would like to find a new man. It's not easy. She finds a connection with someone who lives in another country, but is that connection authentic? Is it an online fantasy? Is someone catfishing her?

We never learn the resolutions to some of these storylines, and some scenes feel scripted and awkward. But what comes through as genuine is Erick's journey from victimhood into his own self-possession and power as he owns and takes charge of his traumatic experiences. Eventually, the movie itself becomes part of the movie, as an early version of the film is screened in various places around Mexico and Erick and his family make personal appearances to discuss the problem of sexual violence that targets men.

This film feels rough and jumpy, and yet it also carries a powerful immediacy, especially as Erick learns to connect with his family members once more. He tells them he doesn't want their pity, and they don't offer him pity. Instead, they call him out for his bullshit and insist on being allowed to be part of his healing process.

The film ends with some grim statistics about the prevalence of male rape and male sexual abuse. To those many survivors, this doc will have something potent and helpful to say - and others who wish to understand or offer solidarity will find this film enlightening, also.
Kilian Melloy serves as EDGE Media Network's Assistant Arts Editor. He also reviews theater for WBUR. His professional memberships include the National Lesbian & Gay Journalists Association, the Boston Online Film Critics Association, The Gay and Lesbian Entertainment Critics Association, and the Boston Theater Critics Association's Elliot Norton Awards Committee.
Comments on Facebook