Review: 'Surviving The Silence' Examines An LGBTQ Turning Point from A Different Angle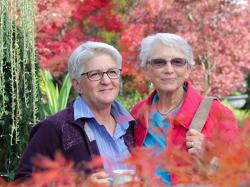 Norwegian-born Margarethe Cammermeyer, who is a naturalized American, served as a colonel in the Washington National Guard. In 1961, she had joined the Army Nurse Corps, and over time received a B.S. in nursing. She then she earned a Master's degree in 1976, and a Ph.D. in 1991. With such impressive qualifications and an impeccable service record, Cammermeyer was due for promotion — but this was where she would be required to take a routine security clearance interview.
After having been married to a man and given birth to four sons, Cammermeyer had gotten divorced in 1980. In 1988, when she was 46, she met the woman who would later become her wife, Diane Divelbess.
At the interview, Cammermeyer felt compelled to tell the truth and disclose that she was a lesbian. She knew there was a very good chance that, under regulations which forbade LGBTQ people serving in the Armed Forces, she would be forced out. She was right; on June 11, 1992, the National Guard honorably discharged her.
Most of us know that story from the media coverage at the time or from the made-for-television-film that Barbra Streisand produced at the time. It won its star, Glenn Close, an Emmy, but despite that, the reviews complained of the sheer lack of passion in the telling of this very important story.
That TV movie was called "Serving in Silence," whereas Cindy L. Abel's new documentary about the case is titled "Surviving The Silence." Abel's version of events is taken from a totally different angle that will surprise nearly everyone.
It starts with the story of Col. Pat Thompson and her now-wife, Barbara Brass. Thompson had served in the Army her whole working life, rapidly moving up the ladder and being given important assignments around the globe. She and Brass had been in a closeted relationship for decades, and although they lived together they went to extraordinary lengths to maintain a strict secrecy. Listening to their stories unfold, and hearing all the sacrifices they maintained not to jeopardize either Thompson's career or their relationship, is sometimes difficult.
In 1992, when Thompson was just two years away from retirement, she received an order from her commanding officer that she was to preside over the military review board investigating Colonel Margarethe Cammermeyer.
Listening to Thompson as she outlines her limited options as to what course she could take is completely engrossing. Without knowledge of all her facts, it would have been easy to jump to conclusions that would have been so wrong. As this part of the story plays out, having a lesbian in charge of the Inquiry turned out to be the best thing that could have happened, even though it meant discharging Cammermeyer.
Thompson's involvement remained a secret until 2013, when she and Barbara — now married — decided to go public for the very first time at a college speaking engagement in Northern California. It was a remarkable turn of events for this immensely private couple; the experience made a major impact on not just the military's "Don't Ask, Don't Tell" policy, but also LGBTQ rights in general.
Filmmaker Cindy L. Abel was also in the audience that night, and that became the start of the re-telling of this crucial part of our gay history. What is still hard to for us of a certain age to grasp is that this is all part of the recent past, and is probably totally unbelievable for Millennials, who have never had to deal with anything like this.
Abel allowed Thompson and her wife to tell their story in their own words, which made it seem so much more powerful. It gave us a crucial human element that reminded us that these are people's lives, and not just mere statistics in a history book.
This is totally unmissable for anyone who cares about our LGBTQ history.
Roger Walker-Dack, a passionate cinephile, is a freelance writer, critic and broadcaster and the author/editor of three blogs. He divides his time between Miami Beach and Provincetown.
Comments on Facebook