EDGE editors and writers spanned the globe in 2019 with some of our most expansive travel coverage since our founding more than 15 years ago. Here's a look back at favorite LGBTQ destinations.
San Francisco tops our list of where to go in 2020? While Pride and Folsom Street are annual draws, consider checking out the city's amazing food scene, cannabis culture and film locations.
Greater Miami and the Beaches is ready to help create a vacation of a lifetime. Here are 10 of our favorite reasons to put Miami on your 2020 vacation calendar.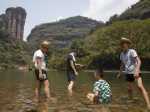 In August, policymakers and scientists from China, the United States and other countries convened in Xining, capital of the country's Qinghai province, to discuss China's plans to create a unified park system.
Wondering where to go if you're an "IFNJ"? How about volunteering in a relaxation location. Or if you're an "INTP," consider a secluded retreat.
Ready to dodge the family for a last-minute getaway? Check out these three destinations and be thankful for a long weekend packed with new discoveries.
Our essential guide for things to do on Oahu, from shopping and beaches to terrific restaurants and one of the best beachfront hotels.
Those who look closely will spot other signs that the city was once split in half: from stoplights to manhole covers, the differences that marked East and West Berlin have survived into the new century, some visible even from space.
Mystery trips have grown into their own industry, both for individual and group travel. Whether traveling by bus, train or plane, these vacations vary widely in length, expense and destination.
An in-depth conversation with some of United Airlines' leaders reveals a progressive carrier that's staying ahead of the curve when it comes to LGBTQ engagement.