Top Story
A new study reveals that sexual minority adults experience homelessness nearly three times that of the general population. This is their story.
1 thru 10 of 54893 Stories
Federal officials intercepted an envelope addressed to the White House that contained the poison ricin, a U.S. law enforcement official told The Associated Press on Saturday.
Across television and streaming services, the life and legacy of Supreme Court Justice Ruth Bader Ginsburg was already front and center Saturday, a day after her death at 87. A look at coverage and plans in her honor.
In an incredible climax to the Tour de France, Tadej Pogacar crushed fellow Slovenian Primoz Roglic in the last stage Saturday before the finish in Paris.
Police in the capital of Belarus cracked down sharply Saturday on a women's protest march demanding the authoritarian president's resignation, arresting more than 300.
With precision and boundless energy, a team of carpenters used medieval techniques to raise up — by hand — a three-ton oak truss Saturday in front of Notre Dame Cathedral.
It's legacy time for Senate Majority Leader Mitch McConnell.
President Donald Trump said Saturday he's given his "blessing" to a proposed deal between Oracle and Walmart for the U.S. operations of TikTok, the Chinese-owned app he's targeted for national security and data privacy concerns.
Republican senators weighing what to do about the vacancy on the Supreme Court are facing questions about their own past comments amid complaints by Democrats that their views have shifted with changing political reality.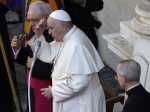 Pope Francis met with approximately 40 parents of LGBTQ children on Wednesday and said "the Church loves your children as they are, because they are children of God."
Prior to being picked to run the Tour de France, U.S. cyclist Neilson Powless didn't think he'd made the cut. On Sunday he crosses the finish line in Paris.
1 thru 10 of 54893 Stories