1 thru 10 of 29660 Stories
Fourth of July gatherings, graduation parties, no-mask weddings, crowded bars — there are reasons the U.S. has racked up more than 155,000 coronavirus deaths, by far the most of any country.
NBC reports that Ed Buck, who has made donations to the campaigns of several Democratic politicians, is now facing new charges including "allegations of luring men across state lines for the purpose of prostitution."
An adult male entertainment company is seeking participants in a "no load refused gang bang" to be filmed next month. But are they skirting COVID guidelines?
TMZ is reporting that a "small militia" from the FBI raided controversial YouTuber Jake Paul's home in the Los Angeles neighborhood of Calabasas.
Only two openly LGBTQ people have ever been elected to the Kansas state legislature. Stephanie Byers is determined to make it three.
In the early days of the coronavirus crisis, President Donald Trump was flanked in the White House briefing room by a team of public health experts in a seeming portrait of unity to confront the disease that was ravaging the globe.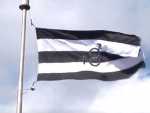 The so-called "Straight Pride" that roiled Modesto, California last summer was an unqualified flop. But that hasn't stopped the group behind the event from planning a followup for this year.
Lilly Wachowski — one half of the Wachowski siblings, both of whom are trans — appeared on a "Netflix Film Club" clip to discuss the "trans narrative" of the "Matrix" movies.
On America's southern doorstep, the Rio Grande Valley, the U.S. failure to contain the pandemic has been laid bare. The results have been deadly.
Fox News Channel viewers are usually a loyal bunch, but thousands looked for the "off" switch during last week's telecast of civil rights icon John Lewis' funeral.
1 thru 10 of 29660 Stories