Gay Baltimore: The Latest
Is there anything gay performer and Texas native Todrick Hall can't do? He sings. He dances. He writes songs. He acts on Broadway, in movies, and on TV. He's also an outspoken activist, and discusses his new album, "Femuline."
Most Americans who haven't been vaccinated against COVID-19 say they are unlikely to get the shots and doubt they would work against the aggressive delta variant despite evidence they do.
Angelina Jolie scored a major victory Friday in her divorce with Brad Pitt when a California appeals court agreed with her that the private judge deciding who gets custody of their children should be disqualified.
A small group of journalists traverse Tokyo to experience the city amid the Olympics and pandemic.
Photojournalist Petr David Josek caught close-up shots of some of the detailed outfits worn at Tokyo's opening ceremony.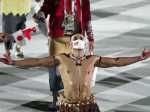 Pita Taufatofua will compete in the Olympic games for Taekwando and for our hearts.
Whether you spend your summer seeking adventure or staying close to home, you'll have more fun with your furry friend along for the ride. A little planning can go a long way in making sure your sidekick stays safe.
Out TV personality Tyler Whitman (from "Million Dollar Listing New York") opened up about his sobriety, which he achieved during the pandemic.
Celebrity dermatologist Dr. Alex Khadavi, who has done work on stars like Scott Disick, David Hasselhoff, and Lance Bass, was caught on surveillance camera hurling an anti-gay epithet at a neighbor in the lobby of a posh Beverly Hills condo.
Welcome to EDGE's New Music Friday, our guide to the best singles and albums released every week!
Andrew Dymock, the 24-year-old British neo-Nazi who called for a gay "purge" but claimed to be bisexual as part of his defense in court, has been sentenced to seven years in prison.
Global drag icons and "RuPaul's Drag Race" stars BenDeLaCreme and Jinkx Monsoon are taking the stage once again in a post-apocalypse-mas extravaganza certain to make this yuletide gayer than ever!
Rising concern about the fast-spreading delta variant of COVID-19 is creating turbulence for the stocks of big travel companies, but airline executives say they don't see any slowdown in ticket sales.
When a religious publication used smartphone app data to deduce the sexual orientation of a high-ranking Roman Catholic official, it exposed a problem that goes far beyond a debate over church doctrine and priestly celibacy.
A growing number of banks and fintechs are using digital banking platforms to meet the unique challenges and needs of individual communities.
But what happens if you later have buyer's remorse, whether it be from too high of a car payment or realizing your new car isn't actually what you wanted?
New summer scents have arrived just in time for your next snuggle session. Remember, a little goes a long way. Here are EDGE's top picks for the best summer fragrances of 2021.
U.S. health officials said Thursday they now have evidence of an untreatable fungus spreading in two hospitals and a nursing home.
With daily COVID-19 cases sharply rising again, Italy will soon require people to have passes reflecting their health status to access gyms, museums, movie theaters, the inside of restaurants and other venues.
Happy Dark Productions set sail on the San Diego Bay for their annual San Diego Pride closing party. Everyone danced the day and night away before headliner Todrick Hall closed out the night.