Gay Baltimore: The Latest
Criticized for inaction, President Donald Trump and top officials stepped up their defense of the administration's response to intelligence assessments that Russia offered bounties for killing U.S. troops.
Lea Michele made her first public appearance in weeks this week, then was slammed by another former colleague, fitness guru Craig Ramsay, who called her "a despicable, horrible human being."
Two-time Oscar winner Dame Olivia de Havilland turned 104 in Paris on Tuesday.
San Francisco police will stop releasing the mug shots of people who have been arrested unless they pose a threat to the public, as part of an effort to stop perpetuating racial stereotypes, the city's police chief announced Wednesday.
A 19-year-old Detroit man has been sentenced to three life terms in prison with no chance of parole for gunning down two gay men and a transgender woman who authorities believe were targeted because of their sexual orientation.
To celebrate Pride, out Hollywood actor Luke Evans shares pics of himself and his hunky boyfriend.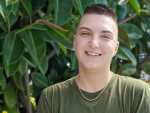 Recovery Unplugged harnesses the power of music to facilitate long-term sobriety from alcohol and substance abuse. They also understand the challenges facing the LGBTQ community. It only takes a phone call to begin.
Out Spanish filmmaker Pedro Almodóvar is set to work on a new feature film, teaming up with his longtime muse Penelope Cruz.
The director of all three "High School Musical" movies, Kenny Ortega, has confirmed what fans knew all along: The character of Ryan Evans, played by Lucas Grabeel, was conceptualized as being gay.
Fox News on Wednesday fired daytime news anchor Ed Henry after an investigation of sexual misconduct in the workplace.
The Atlanta Pride Committee has announced that the 2020 Pride Festival will not be held in person due to the ongoing pandemic. Instead, the festival will be held as a virtual event.
"I wanted to represent all the things I happen to represent: being an Asian queer woman in a kitchen — so many people can relate to my story," says "Top Chef" winner Melissa King. Read more in our interview.
Democrats drove a temporary extension of a popular subsidy program for small businesses through the GOP-controlled Senate late Tuesday.
An Associated Press analysis of coronavirus case data shows the virus has moved — and is spreading quickly — into Republican areas, a new path with broad potential political ramifications.

Some newly unemployed people are taking advantage of special enrollment periods to sign up for plans offered on the Affordable Care Act's insurance marketplaces, while others find they qualify for Medicaid.
Edmunds experts have made some forward-thinking recommendations on five SUVs that offer roomy cargo areas and high fuel economy.
The temperatures are rising but that doesn't mean your fashion needs to suffer. YouTube influencer 40 Over Fashion offers tips on how to look sharp while still showing off some leg.

The U.S. public health system has been starved for decades and lacks the resources to confront the worst health crisis in a century.
"Obviously that is something that is of concern. I'm not sure what went into that decision making," Dr. Anthony Fauci told a Senate panel. "I think in the confines of an airplane that becomes even more problematic."
SF Pride may have been canceled but community leaders Juanita Moore! and Alex U. Inn planned a march along the original Pride route followed by a rally and a second march to the Castro to show support for the black and brown members of the LGBTQ Community