Gay Baltimore: The Latest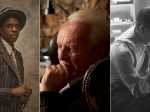 When drained of glamour, what's left of the Golden Globes?
A man has been charged with uttering threats and causing a disturbance after barging onto the grounds of Cyprus' public broadcaster to protest what he said was the country's "blasphemous" entry into this year's Eurovision song contest.
The U.N. Human Rights Office says it has received "credible information" that a crackdown Sunday on anti-coup protesters in Myanmar has left at least 18 people dead and over 30 wounded.
Virginia lawmakers gave final approval Saturday to a bill that will legalize marijuana for adult recreational use, but not until 2024, when retail sales of the drug would also begin.
Infectious disease experts are expressing concern about Pope Francis' upcoming trip to Iraq, given a sharp rise in coronavirus infections there.
Looking beyond the $1.9 trillion COVID relief bill, President Joe Biden and lawmakers are laying the groundwork for another top legislative priority — a long-sought boost to the nation's infrastructure.
The organization hosting the Golden Globes says it is developing a plan to recruit Black members after falling under sharp criticism for lacking diverse members.
A second former aide has come forward with sexual harassment allegations against New York Gov. Andrew Cuomo, who responded with a statement Saturday saying he never made advances toward her and never intended to be inappropriate.
Fred Segal, a notable Los Angeles-based celebrity fashion retailer, died Thursday. He was 87.
After a year of struggling to boost testing, communities across the country are seeing plummeting demand, shuttering testing sites or even trying to return supplies.
A Louisiana State Police trooper has been suspended without pay for kicking and dragging a handcuffed Black man whose in-custody death remains unexplained.
Out actor Nathaniel Curtis expressed separation anxiety about his cast mates from "It's a Sin."
Netflix on Friday released a study it commissioned from top academic researchers that shows the streaming giant is outpacing much of the film industry in the inclusivity of its original films and television series.
U.S. health advisers endorsed a one-dose COVID-19 vaccine from Johnson & Johnson on Friday, putting the nation on the cusp of adding an easier-to-use option to fight the pandemic.
As owners are forced to shut businesses, they've had to figure out what to do next. For many entrepreneurs, the answer has been anticipating the next trend and creating a company to take advantage of it.
On the surface, getting out of a car lease isn't difficult. It's the potential financial penalties for doing so that are the issue. Minimizing this financial fallout is key.
The new collection displayed during Milan Fashion Week takes inspiration from the Arts & Crafts design movement in mid-19th century Britain
It doesn't take a scientist to understand that laughter feels good, while anger feels awful. But it does take one to explain why one of these feelings can boost the immune system.
Soon-to-open Camp Boomerang RV Park and Campground announced it would open this spring and cater exclusively to gay men, setting off a controversy about transgender guests that's reverberating through the queer camping community.
Virgil's Sea Room, a queer bar that opened in 2013 in the Mission District of San Francisco, is permanently closing.