Gay Baltimore: The Latest
Holiday baking shows, an anti-vax soap actor's fired, a reality show hunk goes gay, and plane crash survivors share a lurid secret; all this and more in our TV column.
In the original "West Side Story," the character of Anybodys, the tomboy who wants to be part of the Jets, had no sexual identity. Not so in the new Steven Spielberg/Tony Kushner adaptation.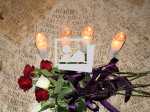 On the eve of World AIDS day, a ceremony was held at the National AIDS memorial in San Francisco. Guest speakers talked about their experience during the HIV/AIDS pandemic, the progress that has been made, and the hope of reaching zero new cases.
Robin de Jesús discusses his new more mature role in the film "tick, tick... Boom," plus his earlier work onstage and film in "Rent," "The Boys in the Band," and "In the Heights."
Scientists caution that it's still too early to say whether omicron will prove as dangerous as delta. For now, here's what we know, and don't know, about the omicron variant.
Jussie Smollett's legal team Thursday will seek to dent the credibility of a star state witness who the day before testified about how he said the former "Empire" actor recruited him and his brother to stage a racist, homophobic attack on Smollett.
Donald Trump tested positive for COVID-19 three days before his first presidential debate in September 2020 with Joe Biden, according to a new book by Trump's former chief of staff.
President Joe Biden is set to kick off an urgent campaign for Americans to get COVID-19 booster shots in response to the omicron variant.
The COVID-19 mandate for businesses with 100 or more employees has faced multiple legal challenges from businesses, conservative groups and Republican attorneys general.
Kataluna Enriquez didn't win Miss USA, but she had already made history as the first openly trans contestant in the pageant — and Elle Smith, who took the crown, cheered Enriquez' participation.
HRC hosts a virtual event series to rewrite narrative around HIV/AIDS, announces new cohort of GENERATE Peer Facilitators.
With "Single All the Way," Netflix delivers an early present that's heartfelt and just a little bit different from all the other Christmas cookie-cutter movies out there.
Federal health officials are requiring airlines to gather contact-tracing information on passengers heading to the U.S. who have been in southern Africa in the previous two weeks.
Vaccinating kids against COVID-19 also means reducing silent spread, since most have no or mild symptoms.

As Americans shop for the holidays, they will likely see a swarm of offers to get their gifts now but pay for them later in fixed monthly installments.
Congress has created a new requirement for automakers: Find a high-tech way to keep drunken people from driving cars.
Even Christmas trees aren't immune to the pandemic-induced shortages and inflation plaguing the economy.
Dr. Anthony Fauci said the COVID-19 pandemic has diverted scientific and financial resources from the fight against AIDS.
Japan has retracted a ban on new incoming international flight bookings to defend against the new variant of the coronavirus a day after the policy was announced.

A very pregnant Ladyfag presented Battle Hymn at Rumi Event Space with a special birthday celebration for Amanda Lepore, with DJ's Eli Escobar and The Carry Nation.