Kansas' new Democratic governor on Tuesday reinstated a ban on anti-LGBT bias in state agencies' employment decisions that a Republican predecessor had repealed, and she also expanded the policy to cover government contractors.
A Houston hospital has removed its president and several other leaders following an unusually high number of patient deaths, including a recent case in which a patient died after receiving a transfusion of the wrong blood type.
Federal officials plan to ease restrictions on flying small drones over crowds and at night, which would give a boost to the commercial use of unmanned aircraft.
Republican Gov. Brian Kemp pledged to work for all Georgians, striking a conciliatory tone in his inaugural address as he sought to leave behind a bitter election contest with Democrats who are pursuing a legal challenge to the state's balloting methods.
Crews removed remnants of a Confederate statue from North Carolina's flagship public university early Tuesday, hours after the school's outgoing chancellor ordered that the empty pedestal be put into storage because of safety concerns.
The scent of burgers, fries and victory wafted through the stately White House on Monday as President Donald Trump saluted college football's Clemson Tigers for winning the national championship.
With the government mired in shutdown week four, President Donald Trump rejected a short-term legislative fix and dug in for more combat, declaring he would "never ever back down."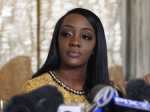 R. Kelly wrote a letter threatening to reveal embarrassing details of a woman's sexual history if she didn't drop a lawsuit accusing him of sexual abuse, the woman and her lawyer said Monday.
Trump's attorney general nominee will have to navigate his confirmation hearing skillfully, emphasizing his support for Trump's policies while assuring Democrats he'll act independently and won't interfere with the special counsel's Russia investigation.
President Donald Trump denied Monday he ever worked for Russia, answering a question he declined to directly address over the weekend.