Gay Baltimore: The Latest
Alabama Public Television has chosen not to air an episode of the PBS children's show "Arthur" because it included a same-sex wedding.
Hit a button, and you're "transformed" into a woman. The beard disappears. The face and jaw smooth out. The hair floats jauntily around the shoulders.
Democratic presidential candidates are mourning a 23-year-old transgender woman in Texas who authorities say was the victim of "homicidal violence."
A former nurse charged with sexually assaulting an incapacitated woman who later gave birth at a Phoenix long-term care facility has appealed a court order requiring a test to determine if he has HIV or other sexually transmitted diseases.
"Where's Terrence Malick?"
Elle Fanning says she fainted at a Cannes Film Festival dinner because he dress was too tight.
"This Is Us" star Milo Ventimiglia learned firsthand what the Red Nose Day's fundraising campaign means to children in need, and he's eager to spread the word.
Twenty-five years after premiering "Pulp Fiction" in Cannes, Quentin Tarantino is set to bring his latest, "Once Upon a Time ... in Hollywood" to the French Riviera festival Tuesday.
The Vashon Island School District has seen a significant increase in fully immunized children.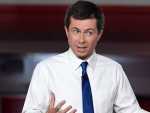 Whether to appear on the nation's top-rated cable news channel has become an unlikely marker for the divergent strategies top Democrats vying for the White House are employing.
President Donald Trump voiced confidence Monday in his ability to win a repeat victory in Pennsylvania in 2020 and took a fresh swipe at one of his leading Democratic rivals.
I'm happy to announce that this sequel isn't the train wreck I thought it'd be. Rather, the film is a clever and inventive follow-up even if it's completely unnecessary.
Advocates for legalizing marijuana have long argued it would strike a blow for social justice after a decades-long drug war that disproportionately targeted minority and poor communities.
Google is assuring users of Huawei smartphones the American company's basic services will work on them following U.S. government restrictions on doing business with the Chinese tech giant.
Washington State residents thought they had purchased health insurance through an online site. But when it was time to pay the bills, they learned that the products they bought weren't insurance at all.
Ford revealed details of its long-awaited restructuring plan Monday as it prepared for a future of electric and autonomous vehicles by parting ways with 7,000 white-collar workers worldwide, about 10% of its global salaried workforce.
As Mexico City's 9 million residents sleep in the pre-dawn darkness, busy hands are already preparing the day's corn tortillas in the small kitchen of Molino El Pujol.

For more than two decades, Nancy Mace did not speak publicly about her rape. In April, when she finally broke her silence, she chose the most public of forums — before her colleagues in South Carolina's legislature.
The 79-room annex at Mount Rainier National Park's Paradise Inn has reopened after a $25 million renovation.
Amidst the trend towards mindfulness and minimalism, Americans are increasingly finding happiness in cleaning — and the numbers are backing it up.