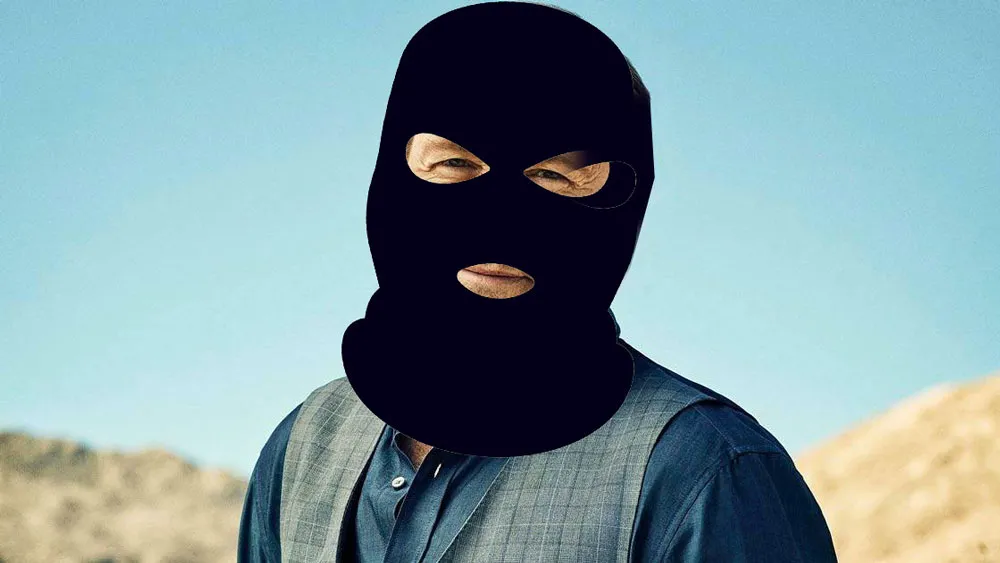 Ski-Masked Kevin Spacey Accused of Assaulting NYC Massage Therapist in New Lawsuit
Last month the New York Post reported Kevin Spacey may be looking for a big Hollywood comeback after being acquitted of sex assault charges in London earlier this summer. But those sex assault charges haven't gone away -- a new one dropped on Saturday, according to TMZ.
"Kevin Spacey booked a massage therapist and then made sexual advances and offered to pay extra money in exchange for sexual favors during the massage ... according to a new lawsuit," reports TMZ.
The New York-based masseur claims Spacey booked three 90-minute massages in August and September 2016 in a room at the New York Edition Hotel.
"In the docs, obtained by TMZ, the message therapist claims Spacey made unwanted and inappropriate sexual advances and repeatedly pressed him for sexual favors, including him insisting on starting the massage with a focus on the buttocks."
The masseur says Spacey insisted on doing yoga poses throughout the massage, during which the Oscar-winning actor exposed his butt and genitals, making the masseur uncomfortable.
The massage therapist also said that Spacey insisted upon wearing a ski mask throughout their sessions.
"In the suit, the therapist claims Spacey repeatedly became sexually aroused during the sessions and even offered extra money in exchange for sexual favors. He also says Spacey repeatedly made sexual comments on his looks and physique."
The masseur also claims Spacey grabbed the therapist's hand and tried to place it on his genitals, despite objections.
The masseur said Spacey booked the sessions using an app using a different name, which meant the man did not know it was Spacey until arriving at the appointments. The massage therapist stopped taking the appointments after the third session.
"The massage therapist claims the Spacey sessions resulted in mental and emotional distress ... saying he still suffers from anxiety, depression, PTSD, and fears for his livelihood as a massage therapist, husband and father. The masseuse [sic] is going after Spacey for damages," adds TMZ.
The latest suit is another in a string of sexual assault claims against Spacey, all of which he has won in court. The most recent had Spacey accused of committing sex offenses against four men between 2004 and 2013, while he was serving as artistic director at London's historic Old Vic theater.
"The 'American Beauty' star was charged with nine separate counts – including sexual assault and causing a person to engage in penetrative sexual activity," reported the New York Post.
"He faced life in prison if found guilty. However, he was deemed in innocent in July 2023 and acquitted of all nine charges."
"The first sexual-assault accusations against Spacey, 63, surfaced in 2017, when the actor Anthony Rapp told BuzzFeed that Spacey – who was starring in Netflix's 'House of Cards' at the time – had sexually assaulted him when he was 14," recalls The Cut. "Spacey initially responded with a muddled apology note in which he came out as gay (a deflection many criticized as conflating homosexuality and pedophilia) and claimed not to remember the incident. 'If I did behave then as he describes," he wrote on Twitter, "I owe him the sincerest apology for what would have been deeply inappropriate drunken behavior, and I am sorry for the feelings he describes having carried with him all these years.'"
Spacey was then dropped by his Hollywood agency and went into semi-retirement. "In October 2022, Rapp's case went to trial in New York, focusing on the younger man's claims of battery. Rapp sought $40 million in punitive and compensatory damages," added The Cut. "Spacey denied Rapp's allegations on the stand, telling the court 'they are not true,' per the Associated Press. The actor also expressed regret over his public apology to Rapp in 2017, saying his publicist 'encouraged' him to make the statement. 'I've learned a lesson, which is never apologize for something that you didn't do. I regret my entire statement,' said Spacey, Variety reports. The case was dismissed after a jury ruled that Spacey was not liable for battery.
"Still, more than 30 men came forward with allegations against Spacey after Rapp went public, accusing him of misconduct ranging from nonconsensual groping to the attempted rape of minors," reported The Cut.
Nonetheless, according to Spacey's friend, writer Geoffrey Mark, the actor is seeking a Hollywood comeback.
In comments to the New York Post, Mark said Spacey wants to "rebuild" his career and believes he will do something "new and creative" in the imminent future.
"He's going to have to rebuild, and in doing so, my opinion is he's going to go in a direction we hadn't considered before," the author explained.
"We're going to see a whole new creative side of him come out. Most folks are going to say, 'Wow, I never knew.'"
---